Glitterful Felt Stories loves Bloggers, and we are so excited to host a blogher '09 $100 scholarship!
One lucky blogger will win $100 CASH to take with her to blogher '09. It can help with cab rides, food and fun!!
The Lucky winner will also get a wonderful Felt Story set with a Felt Board, Three of their favorite stories, and a Glitterful Felt Stories T-shirt!!
The winner can give away two felt stories to a reader of their choice that posts a comment in their blogher '09 scholarship posting!! So, this is also a giveaway to the winners readers!!
To Enter to win:



Blog a posting about our wonderful Glitterful Felt Stories products and how this scholarship can help you attend blogher '09.




Ask your readers to comment about what they like about us and our stories! (The more comments you have the higher chance you have of winning!!)




Include in your posting a link to our store

http://www.glitterfulfeltstories.com/





Include a link back to this posting.





Add our special Scholarship button in your posting AND on your sidebar!





Add a link to your blog posting in the comments below, so we can see your posting!!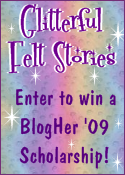 Details:
Giveaway will run from May 26th - June 20th at 11:59 pm PST
Must have proof that you are attending Blogher '09
Winner will be judged on their most creative posting, tweeting and amount of comments in their postings!!
Want to know about Glitterful Felt Stories!
Shelby Barone is the founder and owner of Glitterful Felt Stories. She has an amazing passion for literacy in young children. She was a preschool teacher for over ten years, and has her degree in Early Childhood Education. During her time teaching her passion for literacy began. She was able to see how much young children can benefit from reading and the use of felt stories. She has been creating and donating them to local schools, teachers, churches, libraries and charities since 1995. It was not until the past couple of years that she started to sell her felt stories to help with the cost of her youngest son Tyler's medical expenses, who suffers from a life threatening disease called Neutropenia. . The charities loved how she created her felt pieces using glitter and sparkles to help catch the children's eyes, that they started calling her Glitterful Felt Stories! Glitterful Felt Stories still donates most of their inventory to local charities. Their goal is to get children excited about reading....one story at a time!tm
Shelby is currently a work/Stay-at-home mom with three wonderful children who love to read and inspire her everyday to create more exciting new products!! She is currently finishing writing her first series of children's books along with her husband. She is also a major advocate for adoption and is very involved in many local charities that support adoption.
Glitterful Felt Stories has been growing rapidly over the past couple of years! We have recently added a new product line of printed felt stories! Although we love our hand-cut stories, our printed stories are much better for children under the age of 2. The are very sturdy and can handle lot of little hands pulling and tugging. The best part is that they are machine washable!! All our felt stories are made using felt from recycled cans and bottles!! We care about our children and keeping our world clean for their future!
We sell our entire product line on our main website www.Glitterfulfeltstories.com and www.Flannelboardstory.com . We have recently opened our second website to feature only our printed line at www.funfeltstories.com!